Roger F Switzer Memorial Scholarship – 2022 Recipient Named
We would like to congratulate Tamela Tillman as this year's recipient of the RFS Memorial Scholarship presented by West Blvd Ministry.  We were very impressed with her story and your interview.  Tamela was noticeable nervous during the in person final phase.  She mentioned one of her passions is singing.  Similar to American Idol, Bart asked her to sing us something.  The nerves left her immediately and she did a beautiful, short rendition of Amazing Grace.  A truly impressive and memorable moment.
Like many other students, the journey through Covid had challenged Tamela greatly.  We are confident she will make her community proud and we are pleased to recognize her.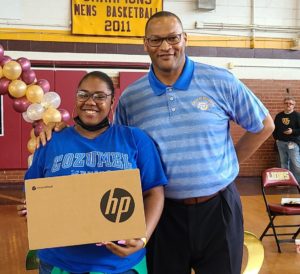 The Roger F Switzer scholarship is $2000 and awarded annually.  The inspiration is Roger F Switzer who was career public servant who wanted his life to be a ministry of service and love.  This mission has been embraced by his children and grandchildren.  The gesture of a scholarship is to honor the man and deliver on that commitment.  We want the award to go to a recipient who demonstrates good character, scholastic commitment and involvement in their community.  This year the eligible schools were extended to West Charlotte and Berry Academy